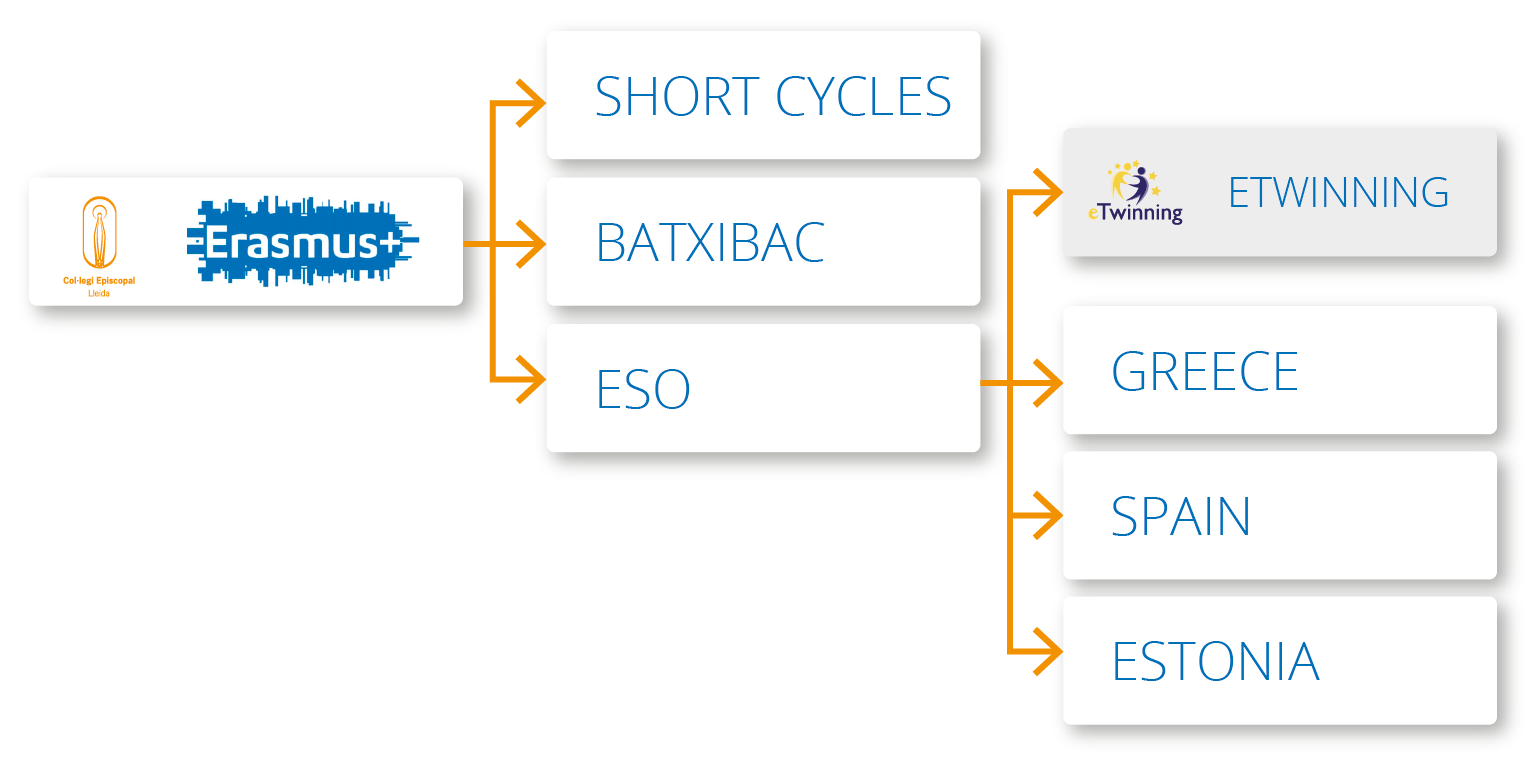 Erasmus+ és un programa de la UE que té per objectiu millorar les possibilitats que tenen els joves de trobar feina i permetre'ls-hi alhora desenvolupar la seva personalitat


QUÈ ÉS ERASMUS+
Erasmus+ és un programa de la UE que té per objectiu millorar les possibilitats que tenen els joves de trobar feina i permetre'ls-hi alhora desenvolupar la seva personalitat; també pretén ajudar els nostres sistemes d'ensenyament i de formació professional a oferir un ensenyament que proporcioni als joves les competències necessàries per poder-se incorporar a la societat i al mercat de treball d'avui dia i del futur.
Que estudiants d'ensenyament superior i formació professional estudiïn, es formin o tinguin una experiència laboral a l'estranger i que els d'ensenyament superior ho puguin fer tant dins com fora d'Europa, beneficiant-se lingüística i culturalment.
Que el personal docent, els professors de formació professional, el personal administratiu i els animadors juvenils puguin impartir classes i formacions, compartir experiències i ampliar a l'estranger les seves perspectives professionals i, en el cas dels estudiants d'ensenyament superior, que ho puguin fer tant dins com fora d'Europa.
Facilitar el reconeixement acadèmic de les estades a l'estranger a través del sistema ECVET com a eina que garanteix la qualitat de les accions de mobilitat i la seva transparència.
Episcopal School aims to enhance the internationalization of the institution by offering the possibility to open its doors to Europe by taking part in mobility activities of the Erasmus+ Programme which fosters the participation of the students who wish to carry out the traineeships in any European country. We are aware of the possibilities Erasmus+ can provide the students and staff so as to improve their vocational training quality, their linguistic, professional and cultural competences. The school is aware of the importance of the respect for the linguistic diversity and the strong desire to learn other languages. It is part of our mission to make individuals develop a genuine intercultural education that understands diversity as an element of mutual enrichment which recognises the equality and dignity of citizens. By taking all these aspects into consideration, the school board will promote:  
Traineeshipfor students in different European country enterprises.
The staff participation in innovation courses, exchange with other European institutionsso as to improve in terms of methodological, curricular and pedagogical aspects.
The students' possibility to carry out their traineeship in a foreign country avoiding the economic issue to become a problem for their personal enrichment.
The whole community takes part in the project: management board, teachers, students, the town council and other institutions that plan the strategy of internationalization together.   In the process of selection of partners, our institution selects partners from:
Through theEtwinning European Platform.
Through contacts made by taking part inComenius programmes or private Exchange projects oy through contacts made in international courses.
Through the Catalan Ministry of Education (DE) in our city that offers schools the opportunity to enter a project coordinated by different European partners.
Through the Chamber of Commerce that establishes the contact with the enterprises where we usually send our students to carry out their traineeship in the city or abroad.
  Referring to the selection of geographical areas, the intention of the institution is to send students to a European country which offers them the opportunity to complete their vocational traineeship taking into account the academic objectives of the Short Cycle and the values of the entity. Germany is one of the places which historically has provided a wider offer so, its possibilities are greater. However, as a school which has English, French and Germany integrated in its linguistic strategic plan, it is open to send students to any country where these languages are spoken.   The main objectives of the institution by getting involved in Erasmus+ projects are:
open professional possibilities to students by increasing the possibilities of working posts of students.
to improve the knowledge of the foreign language.
to improve the own student's abilities to foster the cultural, social and linguistic diversity.
to find out and develop new professional methodologies.
to enhance the development of the European dimension of students by opening their mind when learning from other countries.
  The strategy led by the Mobility commission aims to:
Focus on entering Erasmus+ Programmes to start mobility of students and staff by taking part in the programmes of the Catalan Ministry of Education.
Foster to complete the activities of mobility in a satisfactory way in terms of credit awarded (ECTS), as equivalent to the Spanish International Diploma supplement and MobilityEuropass.
Promote the spreading of experiences and results both internally and externally among the educational community, Ministry of Education and partners by using the school website local, local newspaper and other media.
Focus on recognizing the participation of students and teachers involved in the Erasmus+ Programme.
Promote that none student is excluded from taking part in an Erasmus+ Programme by giving access and opportunities to participants from all backgrounds.
Select partners from European countries.
For the last twenty years, our institution has participated in some Comenius European programmes; one in High School in 2007, "La lumière et les images", "El Camino de Santiago", "The earth in our hands" in Primary Education between 2009 and 2011, involving different European countries. Also, some visits to different European institutions such as Don Bosco Tounal Institution in Belgium in 2007; The Lycée Louis Pateur de Beaumount, France; The Zanlaands Lyceum in Holland and others.   Throughout the last five years, in Secondary School, our institution has been participating in European exchanges with France, Germany and Poland through the Etwinning Platform which has allowed to get to know institutions and teachers of different European countries and has permitted to carry out exchange projects with the students. Episcopal School strategy with Erasmus+ programme foresees a first application to Key 2 Action in the following years. Strategic Partnership with other Secondary School Institutions will be carried out having in view the successful experience gained with short-term mobilities these last years.   In terms of Short Cycles courses, our institution has been sending students abroad to carry out their internship in Osnabrück, Germany for the last three years. Our main objective focuses on obtaining the Charter Higher Education that enables our institution to get involved in Key 2 Actions. This passport will allow our students to be sent to different European countries so as to foster their employability and create direct bridges from Higher institutions and labour market. Therefore, Episcopal School is willing to enlarge its strategic partnership to other Higher Education Institutions in order to exchange skills and experiences in a modern European Dimension open to all State members.   Participation in the Erasmus+ Programme is expected to have considerable contribution to Episcopal School on all four priorities of renewed EU Agenda. Our main objective is to foster students to adapt in this changing world and enable them to contribute to the innovation of society not only economic but also in terms of social inclusion and social progress. According to the priorities of the renewed EU Agenda for Higher Education, Episcopal School focuses on:
Tackling future skills mismatches and promoting excellence in skills development. 
Our school provides students with strategic guidance and graduate tracking as well as a well-designed curricula and effective teaching that promotes excellence of results.  
Building inclusive and connected higher education systems. 
Our institution fosters innovation and inclusive learning environments that allow our students to acquire the suitable skills to become competent citizens in society. Teachers guarantee that all students develop their competent skills according to their necessities by offering diversity of activities and learning rhythms. Episcopal School believes in a society which contributes to find an appropriate place for every individual, so it fosters:
The respect for individual rhythms.
The equality in treatment and attention: coeducation.
An Attention Plan for the Diversity offering different paths according to the wide variety of capacities, styles, motivations of our students.
New strategies to help disadvantage students to achieve their objectives by creating small group classes.
Ensuring higher educational institutions contribute to innovation. 
The policy of our institution fosters:
The participation of staff in courses which contribute to the up-to-date of knowledge, help them to adapt and innovate teaching methodologies that will help our students to become skilled, creative and
The participation in conferences and discussion sessions organised by the Department of Education in Catalonia where teachers meet and share new ideasso as to be taught to students.
The teachers'contact with European institutions so as to carry out projects, exchange programmes, fact that contributes to a cultural and educational knowledge of different countries allowing to find out different and innovative ways of learning.
The contact with a great variety of institutions in the city such as the town council and the university with which wecollaborate together in collaborative projects.
Supporting effective and efficient higher education systems.
The institution encourages the participation of students in programmes related to the knowledge of other cultures and the cooperation with other European institutions so as to enrich students' intercultural and digital level by promoting their participation in eTwinning which has allowed them to communicate and collaborate and work on projects together. Our institution policy is based on the training of staff reinforcing peer learning through expert seminars and courses which allows them to get to know the most innovative knowledge needed to prepare citizens for real world situations and problems, encouraging critical assessment and thinking. Because of this, our institution encourages teachers and students to develop their teaching abroad.   In terms of the European Education Area, one of our main objectives in the last recent years has been to foster the learning of foreign languages as an open door to Europe being English the first non-native mandatory language from the kindergarten level, French as the second one starting in the third cycle of Primary Education and following with German as the third language offered to students as an extracurricular language. The school also offers the French Baccalaureate to students who want to obtain both degrees, the Spanish one and the French's. Also, the American Dual Diploma can be obtained by students as an extracurricular High School degree which allows students to learn English through the Academica International Studies, an institution that offers students the possibility to improve their English, with a high technological methodology and open their mind to the world. Our institution also encourages students to study abroad through exchanges carried out in the second year of Secondary Education in Germany and Poland and also through Research projects such as the one in Broadstairs, apart from other topic projects where we have been involved throughout the 60 years of history. Most of the projects have been carried out through the Etwinning Platform which has allowed teachers to encourage students to learn the foreign language and to reinforce their level in an efficient way. The school also offers The Cambridge Assessment Tests together with the Delf In French and the Goethe-Zertifikats in German. This global approach makes students aware of identity and diversity and competent citizens.